Did you get that pun?
Anyway.. haha.. I have been asked to expand on my thoughts about grey hair and the removal of them.
I think you should all do whatever you want. And that includes plucking those annoying grey hairs out if you so wish to.
There is no proof whatsoever that removing one (or 50) will create a knock on effect and bring more. The one you remove will of course come back grey.
Scientest Randy Schueller says "What you do to one follicle doesn't affect its neighbours" so there is no need to panic or even avoid plucking greys because it won't result in your entire head of hair turning grey. 
Although, it has been said, if you repeatedly pluck the same hairs, it CAN damage the follicle which may result in you not being able to grow a hair there at all. So don't risk making yourself bald. 
There is no shame in having a tonne of grey hairs, I have quite a few and I'm only 30. I blame my mother!
I have had clients my age have over 50% grey and I've got 65 year olds with about 2, which I merrily pull out when I see them! 
While you cant get rid of them, you do have a few other options. 
Learn to love them and just go with it. 
OR
Colour them. Of course I am going to say this - I am a colourist and I love it! 
Either full head tint to look more youthful, or opt for highlights to blend them in with your darker colour. 
Full head tint is something you'd need to have done every 4-6 weeks depending on your hair growth and colour choice. 
Highlights you can get away with for a bit longer, so again, depending on hair growth and colour choice around 6-8 weeks. 
I have a lady around mid 40's who almost got over half way with growing out her colour. But in the end she got so fed up with it, she text me to book in her colour again. I must say, she does look so much younger with her brown glossy hair. 
Grey hair in the wrong shade can be incredibly ageing! 

My  Mum has that god awful salt and pepper grey that makes her look twenty years older. She is so not ready to grow it out yet. And again.. she looks so much more youthful with a brown tint that works with her skin tone.
Seeing as your skin gets lighter as well as your hair when you get older, you or your stylist should always opt for a shade or two lighter than you ever used to be as you can end up looking washed out. 
If you're considering colouring your hair, why don't you send me a message? Or book a consultation with me here to see how I can help you. 
So, there you have it. 
Only a quickie today! 
Do you pluck your grey hairs or are you beyond that point now?
Love to hear your comments. 
Stephanie xxx
P.S - Christmas is coming and I am pretty busy, so if you cant find anything on the online booking stystem, just give me a call. 07745911476
I am mobile and cover Tonbridge & Tunbridge Wells areas. x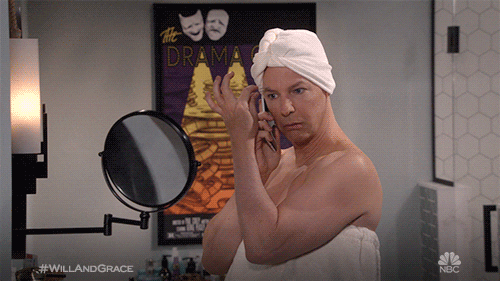 Please reload